The effects of billboard advertising have been well-documented. After all, billboards aren't exactly a rarity in America — they're ubiquitous on just about every major road, littered throughout cities that permit their presence, and they are an iconic symbol of the capitalist culture in our country. For billboards to survive in an age where television and internet advertising are so relevant speaks to their efficacy as an advertising tool — but they're not without their weaknesses.
Specifically, there are two major problems that billboards have as an advertising tool: their stationary nature, and the contractual commitment.
Choosing a good place for a billboard is essential, and if all the hot-spots are booked or overly expensive, you can get stuck in a less-than-ideal location which you cannot change. With contractual obligations that often denote a long-term presence for your ad, there is little room for risk, experimentation, or dynamic changes in your message.
The Benefits of Mobile Advertising Billboards
Luckily, there is a solution that presents a win-win scenario — mobile advertising billboards. At Portaboards, we make outdoor advertising easy by offering portable billboards in a variety of different styles. Whether you're purchasing a mobile billboard unit for yourself or you are looking to rent one, our products allow you to gain some much-needed versatility in your billboard advertising efforts. Here are some reasons why you should consider portable billboards for your outdoor advertising efforts: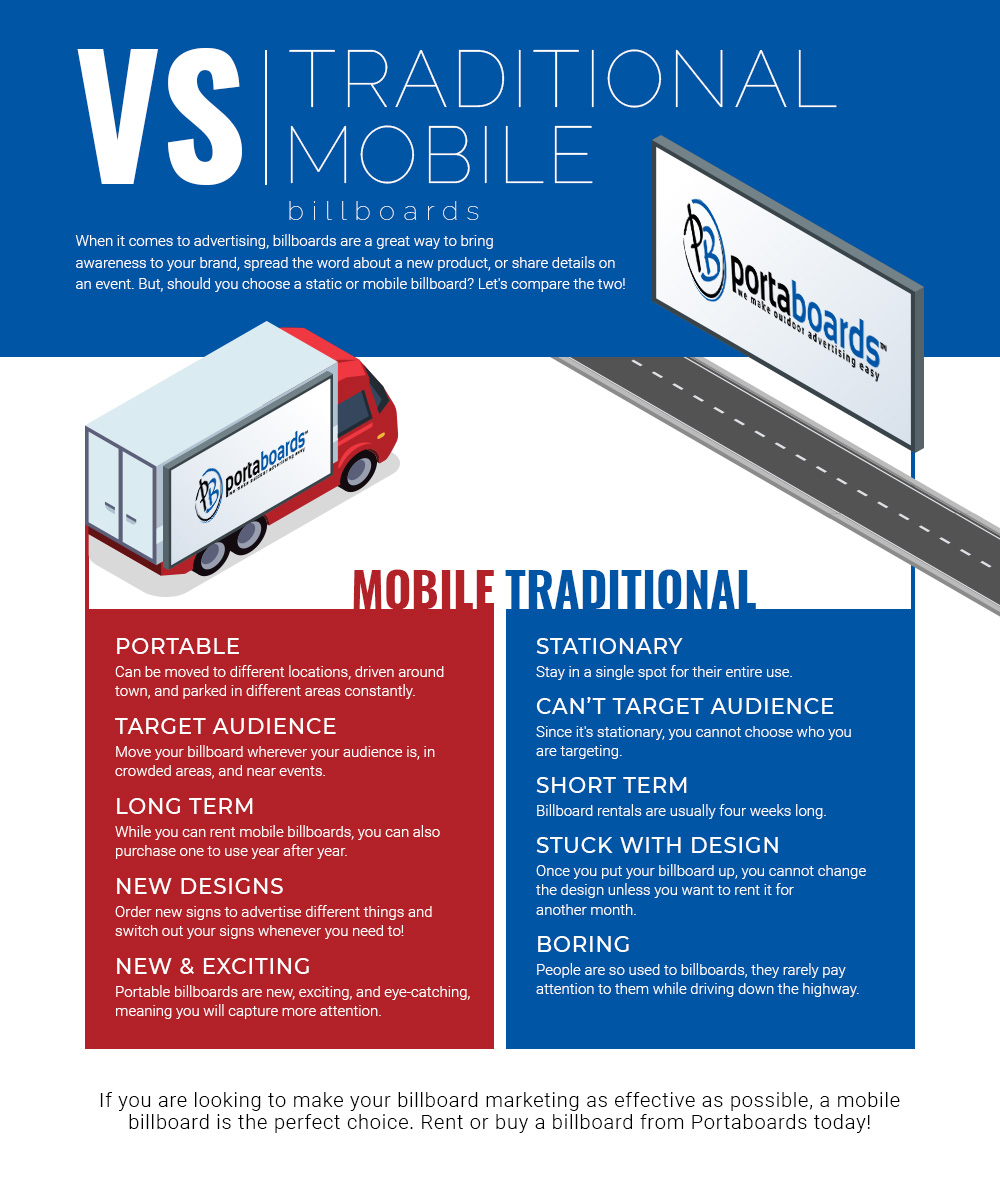 Stationary or Mobile, Your Choice
Our products have the benefit of being able to be stationary or mobile, depending on your needs and desires. Whether you're planning on turning your vehicle into an advertising truck or planning to purchase a billboard trailer that can sit outside at a stationary spot, you simply have more options.
Of course, with stationary options, you're limited to your own property since you can't just go around planting trailers on public property, but if you're in a high-traffic area, it could be a boon to your business without the costly fees and contracts of a traditional billboard. And, naturally, you have the option of attaching your mobile billboard to a car, allowing you to drive around and get countless eyes on your advertisements.
Portable Billboards Are Affordable
Look, we get it — you're a small business, and you're looking to minimize expenses wherever possible. We can relate, and that's why we know how important it is to find an advertising and marketing solution that doesn't break the bank. All things considered, you get a much better value investing in portable billboards than if you opted for traditional billboard advertising.
Portable signs can be a permanent addition to your business's assets, while traditional billboard advertising only lasts as long as you pay for. Even if you have no interest in keeping your mobile billboard for the long haul, our rental prices will ultimately be much more affordable than billboard space.
Portable Billboards Are Versatile
The other big disadvantage with portable billboards is that they're static. That is to say, you can't change your message unless you want to pay some hefty cash to get it removed and replaced. That makes billboards poor advertising tool for a business who is in the experimental stages of its marketing, or one that has frequent changes in its message.
In other words, you can't afford to take risks when you advertise traditionally, nor can you advertise any kind of product, service, or special that's not going to be sticking around for short periods of time.
With portable billboards, it's easy to change the content of your sign. And, since you have the power of presenting your ad anywhere you see fit (all you have to do is drive around), you can make sure people see it. So, if you have dynamic changes in your services, sudden fluctuations of demand, or want to respond to sudden market changes, the power is in your hands.
Mobile Advertising Billboards for Sale and Rent
While we are firm believers in the power of billboard-based advertising, we can't deny that it doesn't have its weaknesses, which is why we created Portaboards — we want every small business to be able to benefit from this innovative marketing solution without having to go through the headaches of traditional billboards.
We offer our products for sale and for rent, so whether you're looking for a permanent asset or a temporary marketing solution, we've got the products for you. We offer several different kinds of mobile advertising billboards, each one having its own unique advantages. Ready to take your marketing to the next level? Browse our online store and request a free quote today!